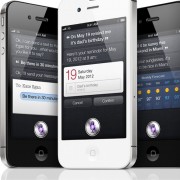 Buyers snap up 'disappointing' Apple iPhone 4S
October 11th, 2011 in Technology news by Dylan
Apple's iPhone 4S has been unleashed upon us, and though consumers will be disappointed to learn it falls well short of a fully-fledged redesign of the world's famous smart phone, there are enough new features to make it a worthwhile addition to your mobile toolbox. 
The 4S looks and feels identical to its predecessor, retails at $649 from the Apple store, and comes in black or white. Those are the similarities. The glaring differences? The camera and antenna have been improved and the processor is faster, which is nice but probably won't inspire recreational smart phone users to get out their wallets.
Perhaps most impressive is the model's dual core GPU which reportedly delivers high performance graphics up to seven times faster, which is great for the swelling numbers of  visually oriented smart phone users out there. The chipset also includes Apple's A5 dual core 1GHz microprocessor which renders twice the processing speed overall, while offering up to 8 hours of talk time over 3G and up to 40 hours of music playback.
The key feature here of course is the enhanced performance and speed, and without sacrificing battery life, making the 4S a must have for those who truly rely on it for business or spend their working days remotely connected to their office from the field. It also doesn't hurt that it has dual band capability which runs CDMA or GSM, making it a global phone.
Morever, the 4s offers some nifty other features including the Siri voice assistant, handy for those who cherish keyboard free functions for information delivery and commands for setting appointments and the like. Siri can be activated with a bluetooth head set.
Conspicuously absent of course is 4G capability, which Apple is no doubt holding in the wings as the main incentive for acquiring the widely anticipated iPhone 5, if and when it arrives.  But customer disappointment in the 4S over that is mitigated by other factors, including the improved antenna which appears to eliminate the reception problems of its predecessor.  Leading tech news portal CNet summed it up nicely in a recent review, saying "..the lack of highly anticipated features like 4G and a revamped design can be hard to swallow. But as long as the "antennagate" problems that we saw on the iPhone 4 don't return, we can live without a new design."
Others apparently agree. Preorders for the 4S reached the 1 million mark the day the product was announced October 4th. However, not all reviewers are praising it, and some such as the U.K.'s Guardian among others are lamenting  a reduction in stand-by time, up to 100 hours less than the iPhone 3GS and 4 in fact. But something had to give somewhere, given the multiple high-performance enhancements of the 4S, including the 8-megapixel camera which comes with autofocus, colour filtering, and a back lit CMOS that grabs high quality photographic images from the dark by absorbing 73% more ambient light. It's faster too.
Perhaps what the 4S demonstrates most of all is the marketing savvy of its manufacturer. Apple has reasoned, correctly as it turns out, that there is enough pent up demand for the iPhone to make multiple versions of the same basic unit not only possible, but profitable. Why offer 4G until they need to?