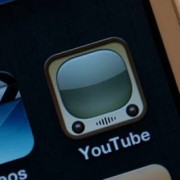 August 7th, 2012 in Technology news by fungpeipunch
A new incident reflecting Apple and Google's "not so friendly" situation has come to pass. Following the replacement of Google Maps for Apple's self-developed 3D maps and the replacement of Google for Baidu as the basic search engine in the Chinese market, the YouTube application has been removed from the new iOS.
According to http://9to5mac.com/ and other sources, deletion of YouTube app on the fourth iOS beta has been confirmed. YouTube application has been a default application on the iOS since  2007, showing the tight relationship between Google and Apple.
Apple has stated "YouTube has been removed from the basic apps because the license agreement has ended and we will not be mounting YouTube from iOS6". Apple has avoided mentioning reasoning behind not extending the license agreement or changes in relationship with Google.
Google has stated "We are cooperating with Apple to provide the best YouTube user experience for iOS users" and did not comment further.
This does not mean iOS6 users can no longer use YouTube on their devices. YouTube can be accessed from the Safari browser and Google is developing a new YouTube app that will be available for download on the App Store.
However, there is a big difference in terms of business. The traffic resulting from users of YouTube is a very important source of revenue for Google who is highly dependent on ad revenue. If the users are given a choice instead of it being default, utilization is bound to be greatly reduced.
It is reported what Apple is aiming for is reduced utilization of YouTube and Apple no longer wants to share profits gained from traffic generated by iPhone users with Google. The purpose behind the replacement of Google Maps and of Google search engine is thought to be the same. If both are changed to choices instead of built-in features, it is bound to have an enormous impact on Google's revenues.
Attentions is drawn to what would be the outcome of Google and Apple's relationship which has begun souring since the last CEO of Apple, Steven Jobs, had criticized Google's advancement into the mobile market.
0